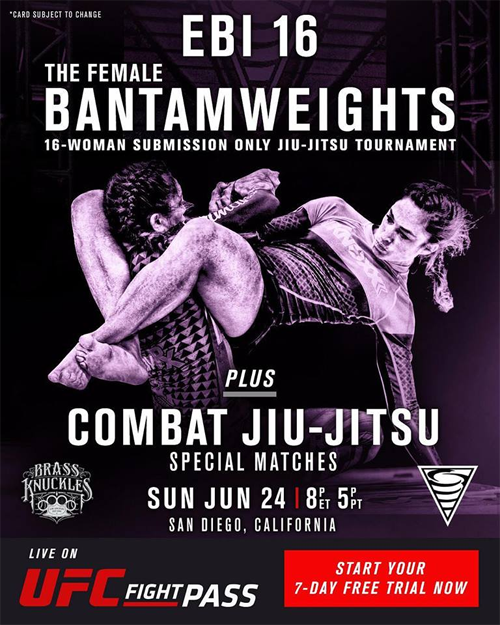 EBI 16: Female Bantamweight is a BJJ tournament and Combat Jiu Jitsu event produced by Eddie Bravo that will be held on Jun 24, 2018, at the San Diego Performing Arts Center, in San Diego, California, United States.
Female Bantamweight EBI 16 Card (UFC Fight Pass)
BIANCA BASÍLIO
(JFC Almeida)
Basilio is one of the very best gi athletes in the world today, and although she's been a black belt for just over 1 year Basilio has already conquered the IBJJF Pan American Championship and the UAEJJF Abu Dhabi Pro.
Bianca is exciting to watch, known for always pushing the pace of her matches and for her mad scrambles. Fast takedowns, explosive passing and a proficient guard are also part of her main attributes.
ERIN HERLE
(Alliance – Cobrinha)
One of the most well known faces in the new generation of female competitors, Erin Herle's black belt career has run hot and cold since she achieved the rank on November last year. A solid performance at EBI would certainly boost her profile and place her as a major player in the division.
Among Herle's greatest achievements in the sport so far are her IBJJF World title in No-Gi as a brown belt back in 2015, as well as a European Open title also at brown belt in 2016.
BROOKE MAYO
(Nick Diaz Academy)
Formerly with Team Alpha Male and Ralph Gracie Academy, the current Bellator signed MMA fighter Brooke Mayo is another experienced jiu jitsu player who has dabbled in cage fighting for the past few years.
A former soccer player who had to pull out of the sport due to a leg condition, Mayo found her calling in combat sports though BJJ, having since transitioned to mixed martial arts by compiling a great amateur record of 5-1-0. She is now returning to her grappling origins at EBI 16 and seems to be training at Nick Diaz' academy for that effect.
SOPHIA NORDENO
(Hilti JJ)
One of Scandinavia's most well known female black belts, Sophia is a well rounded grappler who is celebrated for her heel hook prowess and preference for the no-gi facet of the game.
Last year Nordeno conquered an important silver medal at the IBJJF NOGI Worlds, and is expected to do even better under the EBI ruleset, where she can use her good knowledge of lower body submissions to her advantage. Don't sleep on Sophia, a real contender to the podium.
NIKKI SULLIVAN
(Nice Guy Submissions)
One of the regular faces in the IBJJF brown belt circuit is Nikki Sullivan of Atos HQ and Nice Guy Submissions. Sullivan earned a 2nd Place at the gi Pan American Championship this year – a good indicator of her grappling level.
Although she is seen often in the more traditional gi proving ground, Nikki is very well rounded and has plenty of miles competing in sub only rules, being an EBI and F2W Pro veteran.
AMANDA LEVE
(RABJJ)
21 year old brown belt Amanda Leve is a natural born competitor having tested her skills on a wide range of rule-sets, from gi to nogi, from IBJJF to ADCC, sub-only and even Mixed Martial Arts.
Among Leve's top achievements so far are her IBJJF NOGI Worlds title back in 2016 and her IBJJF NOGI Pans double gold of 2015 as a purple belt. She has trained with big names of the sport such as Ricardo Almeida and her lineage is inline with the DDS squad, so expect her to be well versed in leg submissions and a tough challenge for anyone on this roster.
AMANDA RIBAS
(Team unknown)
Brazilian mixed martial arts fighter Amanda Ribas is from Minas Gerais and currently under contract with the UFC. After a failed a out-of-competition PED test postponed her octagon debut Ribas is making a return to her grappling roots at EBI.
Amanda is a former judo and jiu jitsu competitor, and although we do not know a whole lot regarding her style in a sub-only context, MMA does not make anything but tough athletes so at the very least expect Ribas to be a warrior.
AMANDA ALEQUIN
(Hands Down MMA)
Super exciting to see Amanda competing under EBI rules. One of the most accomplished athletes on this card is Alequin also known as "Tubby". You may remember her by her maiden name, as she tore up the lower belt divisions a few years ago as Amanda Santana.
Amanda earned her black belt rank from legendary competitor Márcio Pé de Pano, having quickly established herself as one of the top middleweights competitors of her generation through her submission orientated grappling style. Originally from Brooklyn NY, Alequin made a name for herself competing in Florida's grappling circuit, later being acknowledged internationally with important wins at the IBJJF World Championships, Pan Americans and ADCC trials.
TRACEY GODELL
(Hawaii Elite MMA)
Back in 2010 Godell was regarded as one of the very brightest prospects in the jiu jitsu world, making her mark while competing for Team Lloyd Irvin. Fast forward to 2018 and Tracey's path did not go exactly as many believed it would. Instead of a bright career in the sport the Hawaiian chose to celebrate motherhood, while still keeping active in the regional circuit on occasion.
We haven't seen Godell compete in a few years and are unsure on what to expect. This may play to her advantage as many on this card weren't even training back when Tracey was tearing through the colored belt division.
RAQUEL PA'ALUHI CANUTO
(Checkmat)
A former professional MMA fighter, Raquel Pa'aluhi Canuto has for the past couple of years been more active in the sport of Brazilian jiu jitsu, having recently earned her rank of black belt and shifted her training camp to the Checkmat HQ under the guidance of Leozinho Vieira.
Canuto is a tenacious contender with important IBJJF titles to her credit, including IBJJF NOGI Worlds and Pans titles as well as an European Open silver medal this year with the gi. She has good wrestling, mental toughness, solid pressure passing and great scrambles. A solid contender to the EBI prize.
TALIA MARIE VAUGHAN
(Gracie Humaita)
A former American Nationals champion as a purple belt (2015), Vaughan has since earned her brown belt and a bronze medal in the IBJJF Words while training at a Gracie Humaita affiliate.
We have not yet seen Miss Vaughan competing in no gi, but assume she has had previous experience given that she was invited to take part in this tournament.
MIRI NIEDRAUER
(Impact Zone)
A very tough challenger is the powerful purple belt Miri Niedrauer, an IBJJF No-Gi World Champion (2017) and IBJJF No Gi Pans 2nd (2017) who usually competes in the medium heavyweight division.
Niedrauer is less experienced than the majority of the other females here, but is used to competing at a heavier weight class. This means she will be one of the bigger athletes on the card, which means she will not be muscled around.
BIA MESQUITA
(Gracie Humaita)
Beatriz Mesquita, or Bia as she is commonly referenced is a black belt under the legendary Leticia Ribeiro as well as, arguably, the most versatile female BJJ athlete of her generation. Mesquita has competed (and won) in every major rule-set known in this sport at the highest level with EBI being the only missing environment.
Although EBI will run a few weeks after the IBJJF World Championship (which will be Mesquita's focus since January), the schedule still gives Bia a couple of weeks to prepare for EBI. Can she pull it off?
JESS BERMUDEZ
(Padilla BJJ)
No information on this athlete