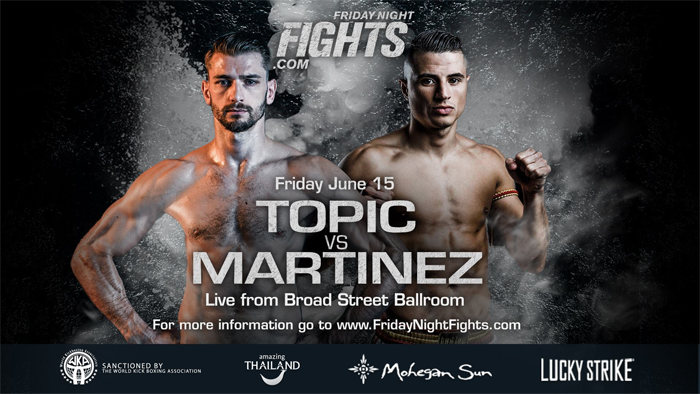 Friday Night Fights: Topic vs Martinez is a muay thai event that will be held on Jun 15, 2018, at The Broad Street Ballroom in New York City, New York, United States.
Fight Card

Main Card (UFC Fight Pass)
Ognjen Topic vs. Miguel Martinez
Ariel Abreu vs. Troy Jones
Mateo Maldonado vs. Jose Vega
Mary Brulatour vs. Jillian Bosserdet
Juan Vides vs Sosa Mejia
Preliminary Card
Kit Fung vs. Giulia D'Ambrosio
Ethan Geffen vs. George Pitsakis
David Aboyagi vs. Clifford Francois
Background
The longest-running Muay Thai series in North America, Friday Night Fights, is back with another action packed LIVE event.

World Class competition takes place on June 15th when one of America's top stars in the sport, Ognjen Topic (18-15) steps into the ring against one of Europe's top light weights, Spain's Miguel Martinez (33-7-2).
In the Co-Main event, Ariel Abreu and Troy Jones clash in what could be the fight of the year. Abrue swings every punch and kick with bad intentions while Jones is as fast as he is accurate. This explosive fight is not to be missed!
The feature bout includes a light weight match up between Mateo Maldonado against Puerto Rico's Jose Vega.
June 15th includes an all star undercard including Kit Fung vs Giulia D'Ambrosio, Ethan Geffen vs George Pitsakis, David Aboyagi vs Clifford Francois and many more.
No fight card was available for this event anywhere I looked or searched. But from the event description and facebook I was able to stitch one together.