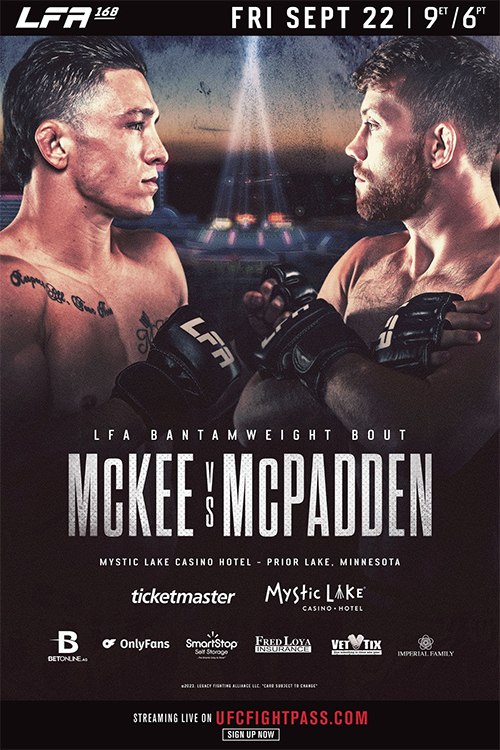 LFA 168: McKee vs. McPadden is a mixed martial arts event promoted by Legacy Fighting Alliance and will take place on September 22, 2023 at the Mystic Lake Casino Hotel in Prior Lake, Minnesota, United States.
Fight Card

Main Card (UFC Fight Pass)
Bantamweight Mitch McKee vs. Sean McPadden
Catchweight (160 lb) Bobby Lee vs. Lucas Clay
Middleweight Alton Cunningham vs. Darian Weeks
Lightweight Kegan Gennrich vs. Donald Bush
Middleweight Collin Huckbody vs. Sean Connor Fallon
Flyweight An Tuan Ho vs. Kendrick Latchman
Bantamweight Quang Le vs. Sal Guerriero
Preliminary Card
Welterweight Joey Hart vs. Jeff Nielsen
Lightweight Coty Milhausen vs. Christian Turner
Light Heavyweight Derek Benoit vs. Mervin Miller
Flyweight Aline Pereira vs. Cheyanne Bowers
Featherweight Griffin Parriott vs. Tyler Mathison
Preliminary Card
Featherweight Dylan Smerillo vs. Nick Fishback
Welterweight C.J. Hays vs. Brett Bye
Featherweight Stephen Lesko vs. Thad Becker
Background
LFA will kick off its busy fall schedule in Minnesota in September. The main event of LFA 168 will feature an All-Minnesota superfight between the top two homegrown talents from the Land of 10,000 Lakes. LFA 168 will be the nineteenth LFA event to take place in the state.

LFA 168 takes place Friday, September 22nd at the Mystic Lake Casino Hotel in Prior Lake, Minnesota. The main event will feature a bantamweight showdown when University of Minnesota All-American wrestler "Merciless" Mitch McKee faces fellow top Minnesota prospect Sean "Lucky" McPadden.

"We are excited to kick off our fall schedule with a high-stakes headliner in Minnesota between the top two prospects in the state at LFA 168," stated LFA CEO Ed Soares. "Mitch McKee and Sean McPadden are Minnesota's top homegrown talents and will battle for state bragging rights and a place at the top of the bantamweight division. McKee is an All-American wrestler from the University of Minnesota, while McPadden started winning fights for us as an amateur 8 years ago in the RFA. Now they are looking to stand alone as the top prospect in the state. Our amazing fight fans in Minnesota will be out in full force when McKee and McPadden square off at Mystic Lake on September 22nd."

McKee (4-0) is one of the most decorated wrestlers to ever compete for the NCAA Division I wrestling powerhouse program at the University of Minnesota. Likewise, he is now considered one of the most decorated collegiate wrestlers currently competing in professional MMA. During his time competing for the Golden Gophers, McKee was a one-time All-American, four-time NCAA National Qualifier, two-time U.S. Junior Freestyle Wrestling National Champion, and currently ranks twelfth all-time for the program with 33 career pins. The man known as "Merciless" has been just as merciless in the Octagon as he was on the mats. In four career MMA bouts, he has finished all four of his opponents by knockout or technical knockout. That perfect 4-0 run includes three wins in the LFA and one in Bellator. McKee always comes prepared with his corner often consisting of fellow Golden Gopher legends Logan Storley and Gable Steveson. Storley competed for LFA before becoming a Bellator champion and Steveson is a two-time NCAA Division I Wrestling National Champion and Olympic Gold Medalist in Wrestling.

McPadden (6-1) is a man that literally grew up inside the LFA Octagon. In fact, he started competing for the promotion as an amateur, when he was just 20-years-old in 2015. This was all the way back when the promotion was still called the RFA. McPadden won four amateur fights for the promotion with two coming in the RFA and his last two amateur fights coming after the merger for the LFA. Three of those four wins came via three different submission holds and it became clear early on in his MMA career that he had a knack for the submission grappling aspect of the sport. That would carry over seamlessly once he turned pro at the end of 2018. McPadden won his first three fights as a pro for the LFA and four of his six wins have taken place inside the LFA Octagon. More impressively, he has an identical 100% finishing rate to his instate-rival McKee. He also trains under Greg Nelson at The Academy MN. This is a man and gym that knows exactly the type of challenge a former Golden Gopher legend will pose to McPadden. That is because Nelson is the man that helped turn Brock Lesnar into a UFC champion.