---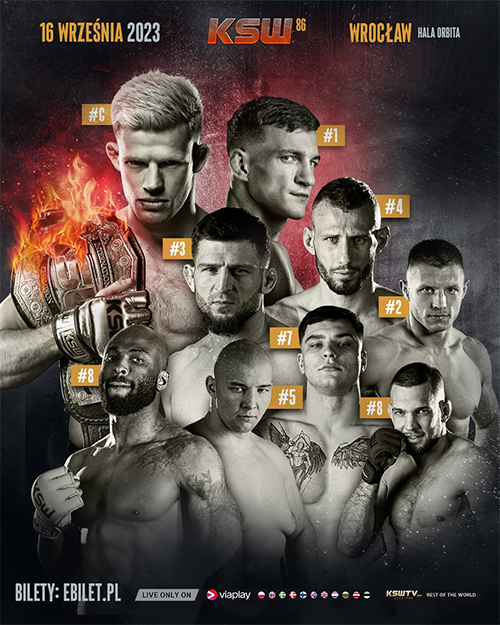 KSW 86: Wiklacz vs. Przybysz 4 will be a mixed martial arts event held by Konfrontacja Sztuk Walki on September 16, 2023 at the Hala Orbita in Wrocław, Poland.
Fight Card

Main card
Jakub Wikłacz vs. Sebastian Przybysz 135 lbs
Bantamweight Championship
Dawid Śmiełowski vs. Lom-Ali Eskijew 145 lbs
Michał Michalski vs. Dominik Humburger 185 lbs
Filip Stawowy vs. Viktor Pešta 265 lbs
Kacper Koziorzębski vs. Wiktor Zalewski 170 lbs
Damian Piwowarczyk vs. Łukasz Sudolski 205 lbs
Artur Szczepaniak vs. Henry Fadipe 179 lbs
Preliminary card
Oskar Szczepaniak vs. Adrian Gralak 170 lbs
Mariusz Joniak vs. Miljan Zdravkovic 135 lbs
Background
A tetralogy bout for KSW Bantamweight Championship between current champion Jakub Wikłacz and former champion Sebastian Przybysz was booked as the event headliner. The pairing first met at ACB 63 on July 1, 2017, which ended in an unanimous decision in favor of Wikłacz. Their second meeting took place at KSW 53: Reborn on July 11, 2020, where Przybysz won by TKO in the third round. Their third meeting took place at KSW 77 on December 17, 2022, where Wikłacz captured the title by split decision.

Już 16 września w Hali Orbita we Wrocławiu odbędzie się gala KSW 86, podczas której w walce wieczoru dojdzie do wielkiego starcia na szczycie wagi koguciej. Jakub Wikłacz, mistrz tej kategorii, zmierzy się z Sebastianem Przybyszem, numerem jeden rankingu. Będzie to czwarta konfrontacja tych zawodników i jednocześnie wielki finał ich sportowej historii.