---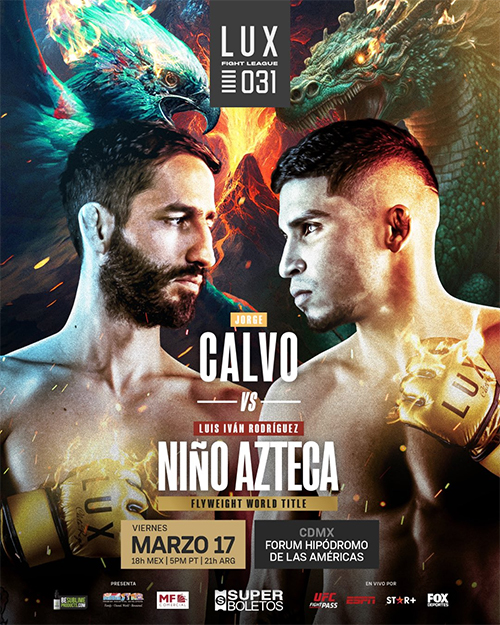 Lux Fight League 31: Calvo Martin vs. Rodríguez is a mixed martial arts event promoted by Lux Fight League and will take place on March 17, 2023 at the Forum Hipódromo de Las Américas in Mexico City, Mexico.
Fight Card

Main Card
Jorge Calvo Martin vs. Luis Iván Rodríguez 125 lbs
Vacant Flyweight Championship
Luis Guerrero vs. Juan Pablo Mendoza 135 lbs
David Mendoza vs. Uriel Cossio 135 lbs
César Vázquez vs. Paulino Siller 125 lbs
Edgar Cabello vs. Isaac Samayoa 135 lbs
Daniela Villasmil vs. Fernanda Muñoz 125 lbs
Preliminary Card
Kevin Morales vs. Alberto García 135 lbs
Dana Yasiri Garcia vs. Hannah Ramos 115 lbs
Background
Luis Ivan "Niño Azteca" Rodriguez , wants to follow in the footsteps of Yair "Pantera" Rodriguez, representing Mexico.

In the run-up to the most important fight of his life so far, the fighter from Chihuahua is preparing conscientiously to go in search of the vacant flyweight title, which he will fight against Jorge Calvo in LUX 031.

Rodriguez has many reasons to give everything and get that title. Among all the reasons is following in the footsteps of current UFC interim featherweight champion and 2014 TUF Latin America 1 winner Pantera Rodriguez.

Pantera is from El Parral, Chihuahua, while Luis Ivan is from the " mere " city. There are several similarities between both fighters. The young man with a 5-0-0 mark, spoke about the motivation, inspiration and example that he intends to follow from his countryman.

Pantera got the title against Josh Emmett, at UFC 284. This is how "Niño Azteca" spoke about it.

It is a big step for Mexico and for the State of Chihuahua, so that more athletes are motivated. Pantera, he is the first fighter who inspired me when I found out that he was from Chihuahua, that he was in the UFC, and that we have the same last name.

I see many similarities between him and me, and it is also a pride to train where he did. It motivates me a lot to see his fights and how he has developed. That keeps me hoping one day to be like him. One day I will be able to represent our country as Pantera has.

To reach those heights you have to climb step by step. The first important step will be to get a flyweight title in the most important company in Latin America LUX Fight League , this March 17 in Mexico City, at the Expo Santa Fé facilities .

The 23-year-old certainly has a natural talent for fighting. From now on, he is to continue maturing and working hard to achieve each goal. In conclusion: Niño Azteca, he has the skills to become one of the best flyweights in Latin America, and based on work one of the best in the world.