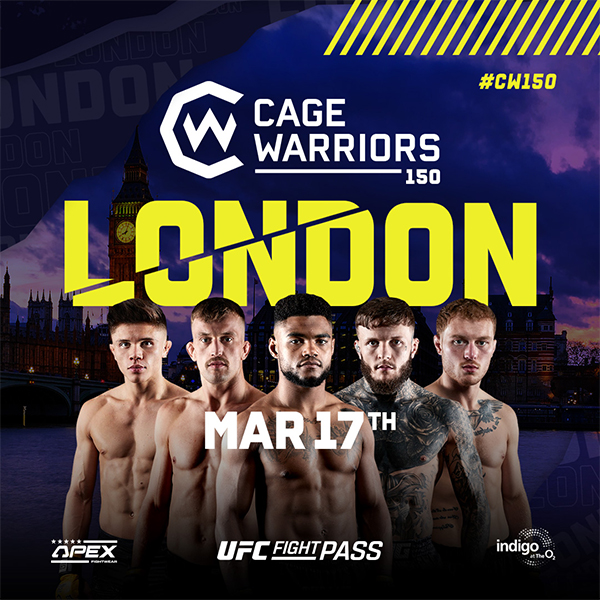 Cage Warriors 150: London is a mixed martial arts event promoted by Cage Warriors and will take place on March 17, 2023 at the Indigo at The O2 in London, England.
Fight Card

Main Card (UFC Fight Pass)
Featherweight: Jordan Vucenic vs Tiziano Ferranti
Welterweight: Justin Burlinson vs Jamie Richardson
Flyweight: Davide Scarano vs Lone'er Kavanagh
Lightweight: Jay Quaeyhaegens vs Alberto Ciardo
Middleweight: Alan Carlos vs James Webb
Preliminary Card
Featherweight: Wesley Machado vs Nik Bagley
Welterweight: Omiel Brown vs Daniel Skibiński
Women's Bantamweight: Awa Sow vs Kate Bacik
Bantamweight: Ille Meryacre vs Jack Eglin
Bantamweight: Bogdan Barbu vs Weslley Maia
Welterweight: Omran Chaaban vs Mush Aslani
Background
We are back with a bang for our first UK show of 2023, featuring Europe's biggest names, including Morgan Charriere, Jordan Vucenic, Justin Burlinson, James Hendin, Lone'er Kavanagh and many more.

The biggest weekend of Mixed Martial Arts in the UK calendar is upon us, and it all starts with Cage Warriors 150 this Friday night, live from London's indigo at The O2!

The event will see Europe's Leading MMA Organisation kick off the European leg of their 2023 world tour in style, with a whole host of former champions, title contenders and future stars on the bill.

Headlined by the return of Corby's Jordan 'The Epidemic' Vucenic as he prepares to mount a second run at the 145lbs title, CW 150 will feature 11 professional bouts in total, all of which will air live on UFC Fight Pass.

In a late development, the Morgan Charriere vs James Hendin bout, previously slated as CW 150's co-main event, has been removed from the card after Hendin withdrew due to a medical issue.

A welterweight contest pitting former welter and middleweight title challengers Justin Burlinson and Jamie Richardson will now serve as the evening's penultimate contest.

A previously announced bout between Harry Hardwick and Shoaib Yousaf has also been removed from the card following an injury to Hardwick.

Cage Warriors wishes both athletes a speedy recovery.