---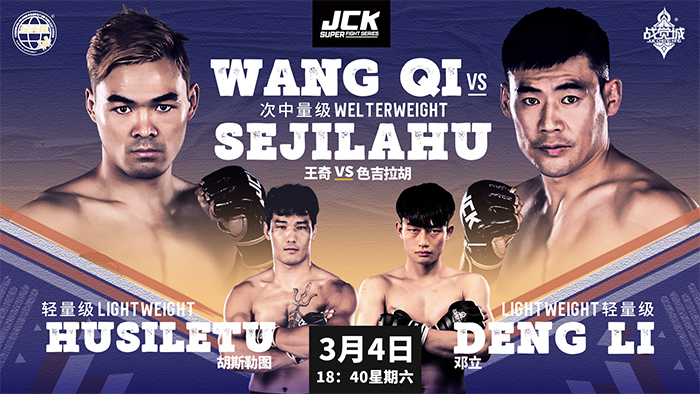 JCK Fight Night Week 19: Wang vs. Sejilahu is a mixed martial arts event to take place on March 4, 2023 at the JCK International Fight Center in Jiaotong, Shanxi, China.
Fight Card

Main Card (UFC Fight Pass)
Qi Wang vs. Sejilahu 170 lbs
Deng Li vs. Husiletu 154 lbs
Pengchao Feng vs. Jinping Wang 134 lbs
Shaoxiang Wang vs. Jimuwusha 134 lbs
Lianjie Liu vs. Ayihengnuer Yeerdanna 134 lbs
Juncheng Chang vs. Yeerhali Biduola 170 lbs
Tilihabuli Walibieke vs. Husile 170 lbs
Xiaodong Shi vs. Jiquan Han 126 lbs
Background
JCK is finally back with the continuation of the tournament style competition!

On March 4, 2023, the 19th match of the JCK Zhanjue City 2022 season continue. The headline main event of this battle, "Pingtouge" Wang Qi and Seji Lahu compete for the initiative in the bounty match. Must win, who will the balance of victory be inclined to?

There is a grievance between Wang Qi and Sejilahu. As early as the 2021 season of JCK Zhanjue City, the two sides had a match. At that time, a fierce "talk" broke out between the two. ", Sejilahu replied that the opponent wanted to dig a big hole in the head of "Pingtouge". After a stormy duel, Wang Qi finally won by TKO, and Sejilahu, who lost, has always had revenge wishes.

The 30-year-old Wang Qi is a famous Sanda player with strong heavy hitting ability and finishing ability. His 7-second TKO record in JCK Zhanjuecheng has so far been unbroken. He lost the first round of the Super Tournament to Taiyilak Nur'Aji, but his excellent standing skills and heavy punches during the game were still recognized by fans, and Wang Qi joined the Harbin Longyun Fighting Club. I believe that under the guidance of Mr. Jiang Longyun Under the circumstances, his ground skills will be greatly improved, so the upgraded version of Wang Qi is still a strong contender for the JCK Zhanjue City 2022 season championship.

The 27-year-old Seji Rahu has rich experience in major competitions, solid basic skills in wrestling, and strong combat effectiveness. His most prominent features are flexible movement steps and strong physical reserves. Ya won four rounds of the battle, and the battle with Wang Qi, although he was the loser, he also showed his strength, and this time Seji Rahu came here for revenge, if he can turn the pressure into motivation , may become a great boost to his performance in the ring.

Up to now, Wang Qi and Seji Rahu have both 1 match and 1 loss in the JCK 2022 season, with no points. Wang Qi is eager to win this match for the middleweight points ranking and the road to promotion, and Seji Rahu's vengeance cannot be ignored, so both sides are bound to do their best in this match.