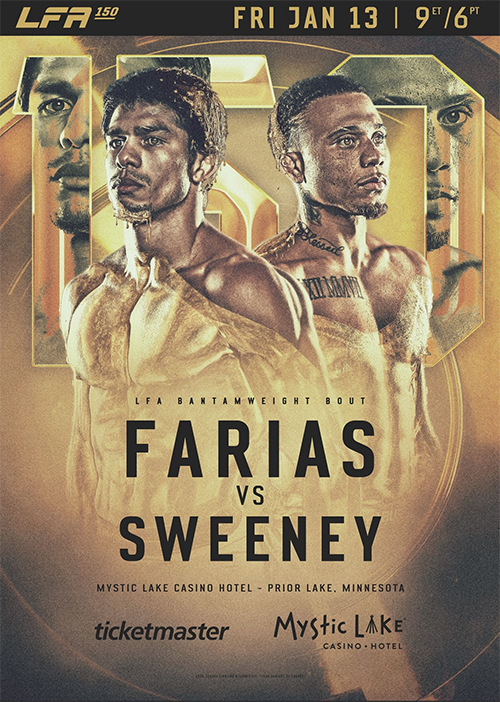 Legacy Fighting Alliance 150: Farias vs. Sweeney is a mixed martial arts event promoted by Legacy Fighting Alliance and will take place on January 13, 2023 at the Mystic Lake Casino Hotel in Prior Lake, Minnesota, United States.
Fight Card

Main Card (UFC Fight Pass)
Ary Farias vs. John Sweeney 135 lbs
Thomas Petersen vs. Richard Foster 265 lbs
Miguel Sanson vs. Mark Climaco 125 lbs
Scott Writz vs. Jalin Fuller 170 lbs
Wes Schultz vs. Dylan Budka 185 lbs
Mitchell McKee vs. Ira Lukowsky 135 lbs
Preliminary Card
Quang Le vs. Henry Huff 135 lbs
Santos Verdinez vs. Darius Miller 135 lbs
Gary Konkol vs. Isaac Thomson 145 lbs
Jackson McVey vs. Deven Paulsen 185 lbs
Amateur bout
Dominic St. George vs. Dominic Dagostino 145 lbs
Shamar Williams vs. Saw Dah 135 lbs
Noah Gasho vs. Moy Medina 135 lbs
Scott Zeller vs. Brady Steinhorst 170 lbs
Zach Gehl vs. Darren Coleman
Background
Ed Soares announced today that the promotion will return to Minnesota in January. The main event of LFA 150 will feature a high-stakes bantamweight showdown between the two of the sport's most dynamic prospects. LFA 150 will be the seventeenth LFA event to take place in the state. The promotion's sesquicentennial event, just like its 50th event, will take place in the Land of 10,000 Lakes.

LFA 150 takes place Friday, January 13th at the Mystic Lake Casino Hotel in Prior Lake, Minnesota. The main event will feature a bantamweight showdown when seven-time BJJ world champion Ary "AstroBoy" Farias faces Stephen "Wonderboy" Thompson protégé John "Hollywood" Sweeney.

"We are excited to bring such a compelling main event to Minnesota at LFA 150," stated Soares. "Ary Farias and John Sweeney are two of the most exciting bantamweight prospects in the world with nearly identical records. However, that is where the similarities end. They possess dynamic fighting pedigrees in distinctly different martial arts. Farias is a BJJ black belt, seven-time BJJ world champion, and one of the most decorated grapplers to ever compete in MMA. Sweeney is a Karate black belt, protégé of the great Stephen "Wonderboy" Thompson, and a dangerous knockout artist in his own right. This main event has all the ingredients for a special fight that you do not want to miss!"

Tickets for LFA 150: Farias vs. Sweeney are available for purchase NOW through Ticketmaster.com.

Farias (12-3) is on a short list when it comes to discussing the most decorated BJJ practitioners to ever compete in MMA. The seven-time BJJ world champion was born into the world of combat sports in Manaus, the state capital of Amazonas in northwestern Brazil. At the age of 11, Farias signed on to ASLE, one of the top BJJ academies in the world. This is the same academy where UFC star Ronaldo "Jacare" Souza and UFC star / LFA great Jaqueline Amorim were developed prior to making the move to MMA. Farias lived and trained with "Jacare" for the next five years at the ASLE training camp. He would eventually make the move to Rio de Janeiro and has trained extensively with some of the biggest names in BJJ such as Ricardo Vieria, Rogerio Camões, Yuri Simoes, and Ramon Lemos. Farias will be making his fourth appearance under the LFA banner and is coming off a win over five-time UFC veteran Michinori Tanaka in the main event of LFA 138.

Sweeney (11-3) is a Karate black belt and protégé of UFC star Stephen "Wonderboy" Thompson. The South Carolinian is known as "Hollywood" as he possesses the same dynamic striking prowess and star qualities that has carved out a legendary career for his mentor. In fact, "Wonderboy" just added to his legacy this past weekend with a masterclass performance in the main event of UFC Orlando, which is now a frontrunner for "Fight of the Year". Sweeney will now look to do the same next month to give his dojo, Upstate Karate in Simpsonville, South Carolina, back-to-back headlining wins. The flashy karateka has all the tools to do just that, as he has shown a flair for the dramatic in his fights, which has seen him secure 5 wins by way of knockout or technical knockout. Sweeney will be making his third appearance under the LFA banner and is coming off a notable win over LFA standout Ricardo Dias in the co-main event of LFA 137.