---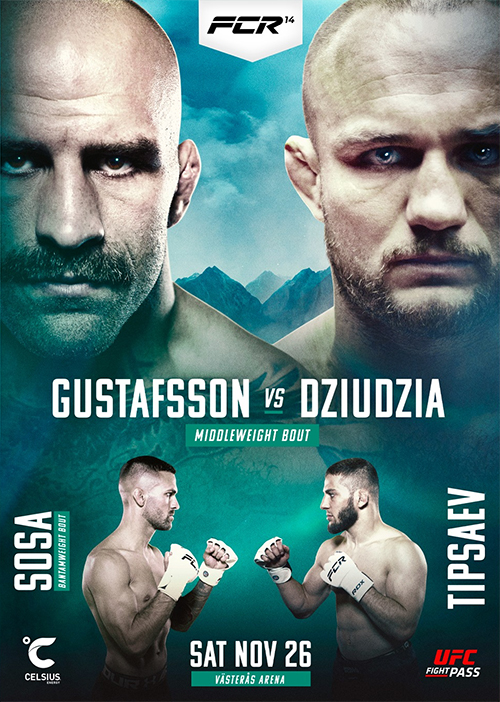 Fight Club Rush 14: Gustafsson vs. Dziudzia will be a mixed martial arts event scheduled for November 25, 2022, at Västerås Arena in Västerås, Sweden.
Fight Card

Main Card (UFC Fight Pass)
Andreas Gustafsson vs. Łukasz Dziudzia 185 lbs
Enrique Hecher Sosa vs. Bilal Tipsaev 135 lbs
Robert Nystrom vs. Wasi Adeshina 145 lbs
Eryk Walecki vs. Sakhi Qambari 145 lbs
Moein Ahmadi vs. Rick Gangia 161 lbs
Paweł Szumlas vs. Baysangur Makaev 155 lbs
Preliminary Card
Anton Larsson vs. Rohullah Yousefi 125 lbs
Ali Yazbeck vs. Abdulaziz Husein 145 lbs
Martin Corney vs. Anton Ringvall 155 lbs
Ali Al-Jasim vs. Gustav Holmqvist 145 lbs
Robin Khozadi vs. Jaafer Mohammed 155 lbs
Background
Recently FCR standout Andreas "Bane" Gustafsson (6-1) announced his return to MMA. He will return to meet hardened Polish prospect Lukasz Dziudzia (6-4-1) in the main event of FCR 14!

Gustafsson made a name for himself as an amateur, representing the Swedish national team in the 2018 IMMAF World Championships, winning the silver medal. He made his pro debut at FCR 4 in January of 2019 against Ole Magnor, finishing his Norwegian opponent via rear naked choke in the second round. "Bane" went on to line up several other impressive wins, including a TKO win over UFC veteran Amilcar Alves.

Following an exciting and emphatic win over Serbian talent Miro Jurkovic Gustafsson faced Damian Janikowski - a former representative of the Polish Olympic team in Greco-Roman wrestling - in KSW. It was a close fight, but in the end the Swede lost a split decision. He would hang up the gloves following that loss, but now makes his much-anticipated return!

What Dziudzia may lack in name value he makes up for in potential. He did well in amateur MMA, winning several bouts, before making the move to the pro leagues in September 2019.

Initially Dziudzia struggled, amassing a 1-2-1 record in his first four fights. Since then, however, the Pole has won five of his last seven, three of his last four and is currently riding a two fight winning streak. After ending last year with a TKO win Dziudzia most recently defeated the much more experienced Mariusz Radziszewski.



Hecher Sosa (3-1) will return for his third FCR fight to take on surging Bilal Tipsaev (4-1-1) in the co main event!

While there are many well credentialed fighters in FCR Sosa is without a doubt one of the most. He is a three time Spanish amateur MMA champion, won gold at the 2019 IMMAF African Open and has bronze medals in both the IMMAF European and World Championships.

The Spaniard made his pro debut in February, rattling off two straight wins via finish. He then made his FCR debut against none other than promotional staple and Swedish champion Jonny Touma, at FCR 10. Sosa took an early lead, gave his opponent no safe quarter, winning via first round knockout.

Following that Sosa was pitted against Örebro Fight Gyms Karlen Minasian in a title eliminator bout at FCR 12. Sosa got a little too over-eager, playing into his opponents counter heavy style, and was finished in the first round.

Tipsaev is one of those who is closest to Khamzat Chimaev, often called the UFC stars' cousin, though the relation is not as such. He burst onto the Swedish amateur MMA scene in 2018, turning heads with impressive performances.

In May of 2019 Tipsaev made his pro debut and he immediately became a force to be reckoned with, winning two straight fights via TKO.

Tipsaev then debuted with Brave CF, starting strong but waning slowly, and eventually losing to Matiss Zaharovs in a shocking upset. Following a controversial draw to Irishman Glenn McVeigh, Tipsaev made his FCR debut, defeating Danish prospect Frederik Skov Strauss via decision.

In his most recent outing, Tipsaev got revenge on McVeigh, winning a clear-cut decision over his rival at FCR 13.


The stakes will be high as FCR returns to Västerås with some of the premier stars the promotion has produced.