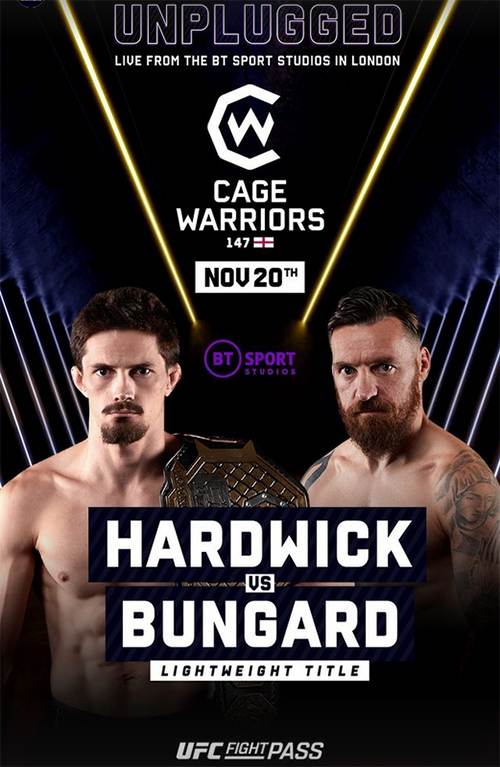 Cage Warriors 147: Hardwick vs. Bungard (also known as Unplugged) is an upcoming mixed martial arts event scheduled for November 2/, 2022 at the BT Sport Studio in London, England.
Fight Card

Main Card (UFC Fight Pass)
George Hardwick vs. Chris Bungard 155 lbs
Lightweight Championship
Morgan Charriere vs. Daniel Bažant 145 lbs
Will Currie vs. Michael Tchamou 185 lbs
Jan Quaeyhaegens vs. Erick da Silva 155 lbs
George McManus vs. Omran Chaaban 170 lbs
Preliminary Card
Alan Carlos vs. Matthew Bonner 185 lbs
Daniel Ladero vs. Matthew Byfield 155 lbs
Adam Darby vs Mush Aslani
Bakhtyaar Oryakhail vs. Ollie Sarwa 135 lbs
Paddy Wilkinson vs Milton Alfonso Cabral
Background
The Cage Warriors 147: Unplugged line up has been finalised, with the ten-fight bill topped by a lightweight title bout pitting challenger Chris Bungard against champion George Hardwick.

Hardwick (10-1) captured the title in memorable fashion over the summer, defeating American Kyle Driscoll with a stunning fourth-round body-shot.

Bungard (17-7) also impressed earlier this year, earning a hard-fought points victory over Brazil's Erick da Silva in his CW debut.

The pair now meet over five rounds at the BT Sport Studio in London on Sunday.

Also scheduled for Cage Warriors' third card in as many weeks is the long-awaited return of French superstar Morgan Charrière.

'The Last Pirate' (15-9-1) straps on the yellow gloves for the first time in almost a year, when he faces Croatia's #1-ranked featherweight, Daniel Bažant.

Unfortunately an illness has forced champion Sam Creasey out of his flyweight title bout with top contender Shaj Haque.

The promotion will look to reschedule the bout for an upcoming event.