---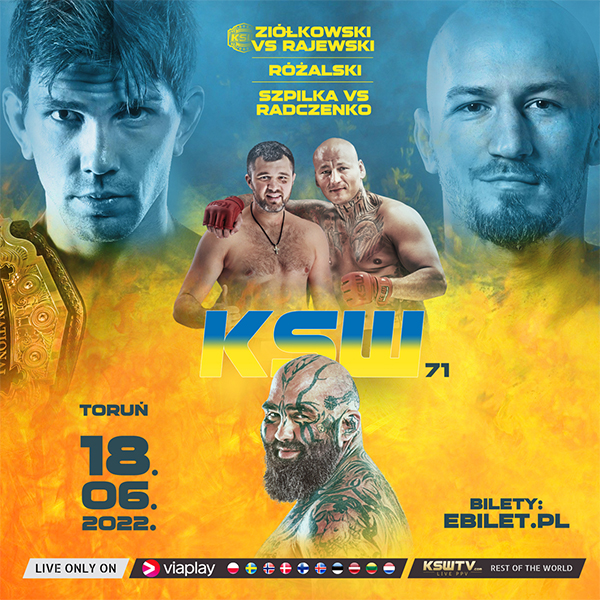 KSW 71: Ziółkowski vs. Rajewski will be a mixed martial arts event held by Konfrontacja Sztuk Walki on June 18, 2022, at the Arena Toruń in Toruń, Poland.
Fight Card

Main Card
Lightweight 70 kg Poland Marian Ziółkowski (c) vs. Poland Sebastian Rajewski
Lightweight Championship
Heavyweight 120 kg Poland Marcin Różalski vs. Netherlands Errol Zimmerman
Special Rules Fight
Lightweight 70 kg Poland Borys Mańkowski vs. Brazil Daniel Torres
Catchweight 105 kg Poland Artur Szpilka vs. Ukraine Serhiy Radchenko
Lightweight 70 kg Poland Roman Szymański vs. Moldova Valeriu Mircea
Bantmanweight 61 kg Poland Jakub Wikłacz vs. Brazil Bruno Augusto dos Santos
Heavyweight 120 kg Poland Filip Stawowy vs. Czech Republic Michal Martínek
Lightweight 70 kg Poland Artur Sowiński vs. Belgium Donovan Desmae
Light Heavyweight 93 kg Poland Przemysław Dzwoniarek vs. Germany Marc Doussis
Background
A KSW Lightweight Championship bout between the champion Marian Ziółkowski and title challenger Sebastian Rajewski was scheduled as the event headliner.

In the co-main event the former K-1, Glory and ONE Championship heavyweight Errol Zimmerman makes his KSW debut against ksw vetrant Marcin Różalski. The special rules fight featured three rounds of five minutes with K-1 rules in MMA gloves.