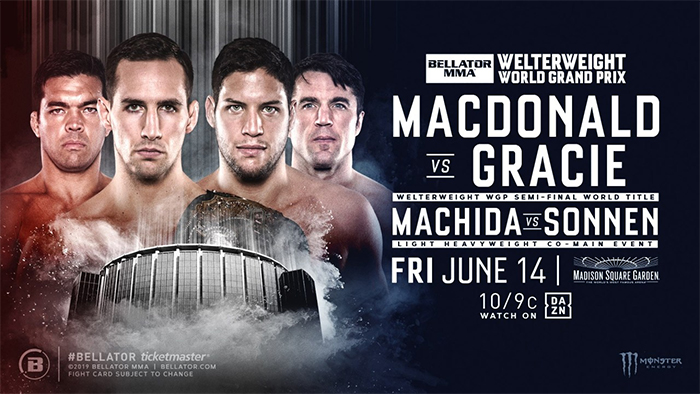 Bellator 222: MacDonald vs. Gracie is a mixed martial arts event scheduled to take place on June 14, 2019 at Madison Square Garden in New York, New York, United States.
Fight Card

Main Card (DAZN)
Welterweight Rory MacDonald (c) vs. Neiman Gracie
WGP Semi-final for Welterweight Championship Title
Light Heavyweight Lyoto Machida vs. Chael Sonnen
Bantamweight Darrion Caldwell (c) vs. Kyoji Horiguchi
Bantamweight Championship Title
Catchweight (175 lbs.) Dillon Danis vs. Max Humphrey
Bantamweight Eduardo Dantas vs. Juan Archuleta
Bantamweight Ricky Bandejas vs. Patrick Mix
Preliminary Card
Featherweight Aaron Pico vs. Adam Borics
Flyweight Brandon Polcare vs. Brandon Medina
Bantamweight Mike Kimbel vs. Sebastian Ruiz
Women's Flyweight Heather Hardy vs. Taylor Turner
Welterweight Haim Gozali vs. Gustavo Wurlitzer
Middleweight Phil Hawes vs. Michael Wilcox
Catchweight (165 lbs.) Kastriot Xhema vs. Whitney Francois
Featherweight John Beneduce vs. Kenny Rivera
Welterweight Robson Gracie vs. Oscar Vera
Catchweight (112 lbs.) Rena Kubota vs. Lindsey VanZandt
Women's Flyweight Valerie Loureda vs. Larkyn Dasch
Background
The event will feature a Bellator Welterweight Championship bout between the champion Rory MacDonald and Neiman Gracie. The bout will serve as both a title defense for MacDonald and a semi-final match in the Bellator Welterweight World Grand Prix.

The event will also feature a light heavyweight bout between former UFC Light Heavyweight Champion Lyoto Machida and Chael Sonnen, as well as a Bellator Bantamweight Championship bout between current champ Darrion Caldwell and Kyoji Horiguchi. The bout will serve as a rematch from the 2018 meeting between the two that took place at RIZIN 14 on New Year's Eve.