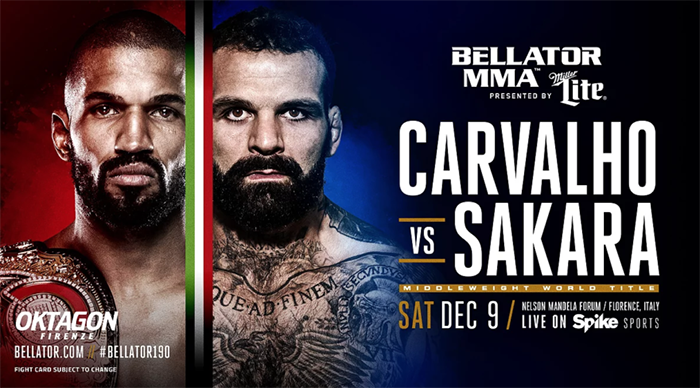 Bellator 190: Carvalho vs. Sakara will take place on December 9, 2017 at the Nelson Mandela Forum in Florence, Italy.
Fight card

Main card (Spike TV)
Middleweight Rafael Carvalho (c) vs. Alessio Sakara
For the Bellator Middleweight Championship.
Women's Flyweight Lena Ovchynnikova vs. Alejandra Lara
Lightweight Brandon Girtz vs. Luka Jelcic
Lightweight Mihail Nica vs. Carlos Miranda
Preliminary card (Spike.com)
Middleweight Gregory Babene vs. Tony Zanko
Bellator Kickboxing 8 fight card
Welterweight (Kickboxing) Raymond Daniels vs. Giannis Boukis
Featherweight (Kickboxing) Kevin Ross vs. Hamza Imane
Middleweight (Kickboxing) Joe Schilling vs. Filip Verlinden
Featherweight (Kickboxing) Gabriel Varga vs. Roberto Gheorghita
Lightweight (Kickboxing) Armen Petrosyan (c) vs. Amansio Paraschiv
For the ISKA K-1 Rules Super Welterweight World Championship.
Lightweight (Kickboxing) Mustapha Haida (c) vs. Samy Sana
For the ISKA K-1 Rules Light Middleweight World Championship.
Middleweight (Kickboxing) John Wayne Parr vs. Piergiulio Paolucci
Background
A Middleweight world title fight match pitting Rafael Carvalho against Alessio Sakara will serve as the main event of Bellator 190.

Occurring also is Bellator Kickboxing 8 headlined by Lightweight title bout pitting Giorgio Petrosyan against Youdwicha. A bout between Armen Petrosyan and Amansio Paraschiv is serving as co-main event.