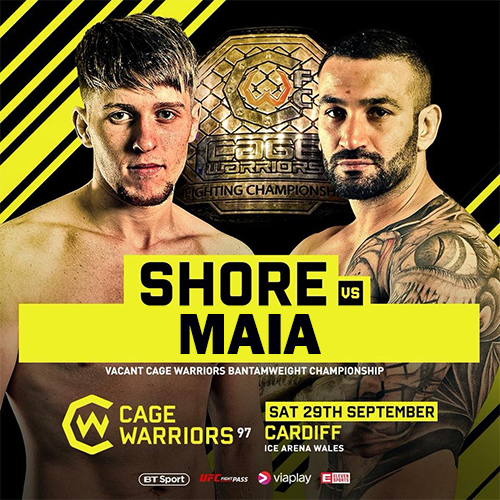 Cage Warriors 97: Shore vs. Maia, is a mixed martial arts event to be held on Saturday, September 29, 2018, at the Ice Arena Wales in Cardiff, Wales, United Kingdom.
Fight Card

Main Card (UFC Fight Pass)
Jack Shore vs. Weslley Maia 135 lbs
Mason Jones vs. Kacper Formela 155 lbs
Kris Edwards vs. Brian Bouland 135 lbs
Jamie Richardson vs. Aaron Khalid 173 lbs
Cory McKenna vs. Micol di Segni 115 lbs
Preliminary Fights (Facebook)
Liam Bennett vs. Steve Aimable 161 lbs
Michael Corston vs. Struan Croxson 155 lbs
Brett Hassett vs. Luiz Finocchio 155 lbs
Luke Shanks vs. Jason Jenkins 135 lbs
Cage Warriors Academy Grand Prix Semi Final
Nathan Johnstone vs. Chris Sterling 145 lbs
Tournament Championship
Joe Draper vs. Jordan Peake 155 lbs
Tournament Championship
Mitchell Goode vs. Christian Leroy Duncan 185 lbs
Tournament Championship
Amateur Card
Dan Kneil vs. Scott Pedersen 155 lbs
Liam Shotbolt vs. Jack Tucker 170 lbs
Auri Witcombe vs. Keiren Bennett 170 lbs
Craig Rawlins vs. Jahmel Westcarr 185 lbs
Rafał Neuberg vs. Jaxson Hembury 185 lbs
Owain Davies vs. Kenzie Jones 135 lbs
Rob Bennett vs. James Price 155 lbs
Morgan Monk vs. Jack Henshall 135 lbs
Liam Herbert vs. Roan Crocker 185 lbs
Background
On morning of 29:th, Omer Cankardesler was removed from the card due to a failed medical examination. His slot was taken by Brazilian Weslley Maia, who will step up on short notice to face Welsh prospect Jack Shore in a featherweight non-title bout.

The CW97 co-main event will go ahead as planned, as Mason Jones and Kacper Formela successfully came in at 155.9 and 154.6, respectively.
Sep 29 - Updated fight card & background