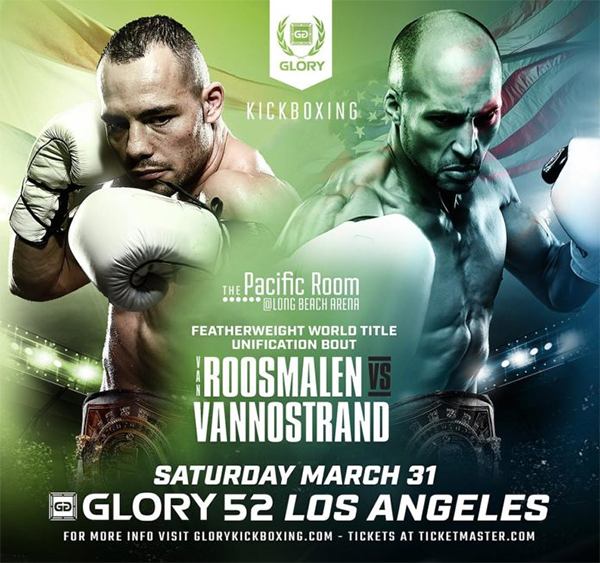 Glory 52: Los Angeles will be a kickboxing event held on March 31, 2018 at the Pacific Room in Los Angeles, California, United States.
Fight Card

Glory 52
Featherweight 65 kg Netherlands Robin van Roosmalen (c) vs. United States Kevin VanNostrand (ic)
For the unification of Glory Featherweight Championship
Middleweight 85 kg Canada Simon Marcus vs. United States Zack Wells
Middleweight 85 kg United States Mike Lemaire vs. United States Chris Camozzi
Lightweight 70 kg Canada Josh Jauncey vs. Bulgaria Stoyan Koprivlenski
Superfight Series
Light Heavyweight 95 kg Ukraine Pavel Zhuravlev vs. United States Myron Dennis
Women's Catchweight 53 kg France Anissa Meksen vs. Canada Ashley Nichols
Middleweight 85 kg United States Paul Banasiak vs. United States Troy Jones
Featherweight 65 kg Netherlands Zakaria Zouggary vs. England Bailey Sugden
Background
The GLORY 52 co-main event bout was originally scheduled to be a rematch between Lightweights Marat Grigorian and Stoyan Koprivlenski. Grigorian had to withdraw due to a neck injury, Koprivlenski will takes on Josh Jauncey.

Robert Thomas suffered a concussion during training and has been forced to withdraw from Glory Middleweight Contender Tournament. Following this shake-up, the remaining three middleweight tournament contenders have been rebooked.

Simon Marcus will remain on the card, meeting Zack Wells in the Glory 52 co-headline bout.

Yousri Belgaroui and Jason Wilnis were originally scheduled to compete in the middleweight contender tournament, but will instead square off as part of Glory 53 SuperFight Series from Lille, France.