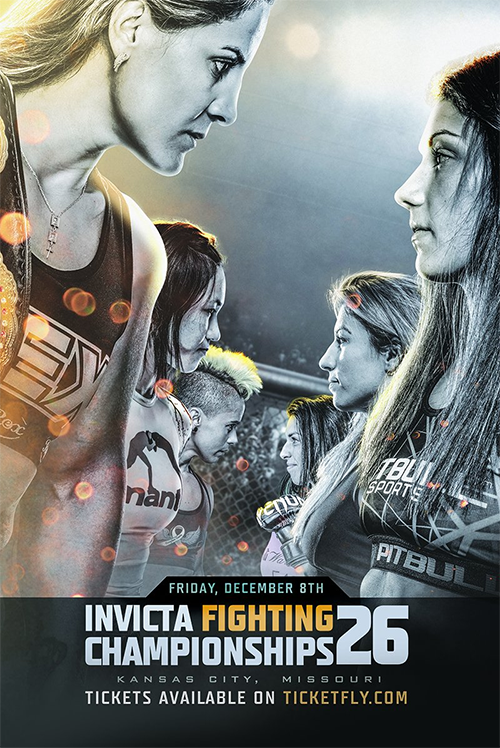 Invicta FC 26: Maia vs. Niedwiedz | December 8, 2017 | Scottish Rite Temple | Kansas City, Missouri, United States.
Fight Card

Main Card (UFC Fight Pass)
Flyweight Jennifer Maia (c) vs. Agnieszka Niedźwiedź
For the Invicta FC Flyweight Championship
Strawweight Kinberly Novaes vs. Janaisa Morandin
Strawweight Mackenzie Dern vs. Kaline Medeiros
Flyweight Vanessa Porto vs. Milana Dudieva
Strawweight Amy Montenegro vs. Virna Jandiroba
Atomweight Amber Brown vs. Tessa Simpson
Flyweight Karina Rodriguez vs. Christine Ferea
Strawweight Kay Hansen vs. Emilee Prince
Background
The event is to be headlined by Jennifer Maia defending her flyweight championship against top contender Agnieszka Niedzwiedz. Vanessa Porto was scheduled to fight Jessy Rose-Clark, but Jessica accepted a fight with the UFC and was replaced by Milana Dudieva. On November 13, Invicta announced the signing of the undefeated Mackenzie Dern to debut against Kaline Medeiros. Janaisa Morandin was scheduled to fight Mizuki Inoue, but Mizuki pulled out of the fight on November 27 and was replaced by Kinberly Novaes.