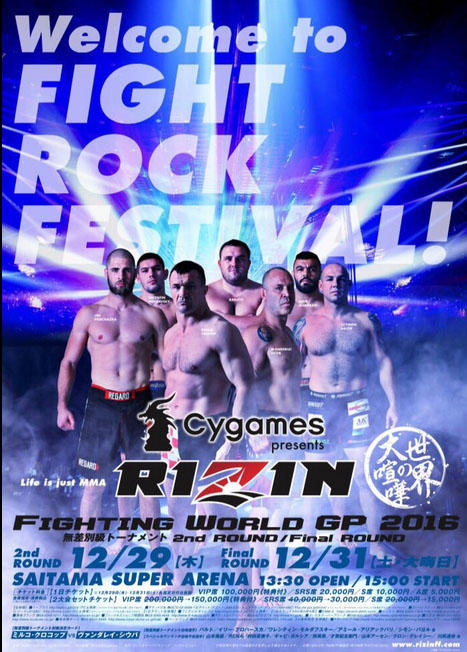 Rizin FF 3, Rizin World Grand-Prix 2016: 2nd Round will be mixed martial arts event held by the Rizin Fighting Federation on December 29, 2016 at the Saitama Super Arena in Saitama, Japan.
Fight Card
Openweight Croatia Mirko Filipovic vs. United States Muhammed Lawal
Openweight Grand-Prix Quarter-Finals
Openweight Japan Tsuyoshi Kohsaka vs. Estonia Baruto Kaito
Openweight Grand-Prix Quarter-Finals
Openweight Iran Amir Aliakbari vs. United States Heath Herring
Openweight Grand-Prix Quarter-Finals
Openweight Russia Valentin Moldavsky vs. Poland Szymon Bajor
Openweight Grand-Prix Quarter-Finals
Female Flyweight 57 kg Japan Rin Nakai vs. Japan Kanako Murata
Flyweight 57 kg Japan Tenshin Nasukawa vs. Ukraine Nikita Sapun
Lightweight 70 kg Japan Kazuyuki Miyata vs. Netherlands Andy Souwer
Bantamweight 61 kg Japan Yuki Motoya vs. Brazil Allan Nascimento
Flyweight 58 kg Japan Tatsumitsu Wada vs. New Zealand Kai Kara France
Featherweight 66 kg Japan Yusuke Yachi vs. Philippines Mario Sismundo
Female Atomweight 48 kg Japan Kanna Asakura vs. United States Alyssa Garcia
Openweight Russia Vadim Nemkov vs. Brazil Alison Vicente
Openweight Grand-Prix Reserve Fight
Lightweight 70 kg Japan Satoru Kitaoka vs. United States Daron Cruickshank
Background
Jiří Procházka was injured and couldn't participate in the second round of the Grand Prix, and was subsequently replaced by Tsuyoshi Kohsaka.

Mirko Filipović was originally scheduled to have a rematch with Wanderlei Silva in the Openweight Grand-Prix Quarter-Finals. However, on December 2, Silva withdrew from the bout.[1] He was subsequently replaced by Muhammed Lawal.

Shane Carwin was originally announced as an Openweight entrant against Amir Aliakbari. However, he pulled out of the tournament for undisclosed reasons and was replaced by Heath Herring.
Dec 26 - Updated fight card & background