---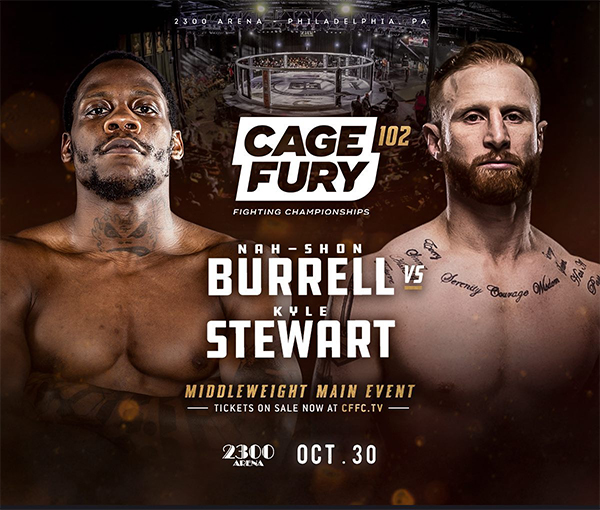 CFFC 102: Burrell vs. Stewart is an upcoming mixed martial arts event scheduled for October 30, 2021 at the 2300 Arena in Philadelphia, Pennsylvania, United States.
Fight Card

Main Card (UFC Fight Pass)
Nah-shon Burrell vs. Kyle Stewart 185 lbs
Ryan Rizco vs. Yana Ashmoz 155 lbs
Isa Dalipaj vs. Jose Perez 145 lbs
Ben Coyle vs. Will Spann III 125 lbs
Gordon Wigington vvs. David Gladfelter
Tommy Majeski vs. Thad Jean
Preliminary Card (Facebook)
Luke Fernandez vs. Cody Lewis 205 lbs
NextGen Heavyweight title
Jerry Lleshi vs. Bruce Layme 135 lbs
NextGen Bantamweight title
Riley Palmer vs. Devin Maldonado
Dymere Rappa vs. Nick Galanti 205 lbs
Background
Cage Fury is back at the historic 2300 Arena in South Philadelphia for another night of exciting high-level professional Mixed Martial Arts (MMA) action on Saturday October 30th.